Introduction
Bank interest is considered to be one of the safest platforms to earn a decent return on your savings. But since the purpose is protection of consumer funds, it may not be considered as enough. What if I tell you that you can open a savings account and earn a higher interest rate sitting home? No hassle of going to the banks. In fact what if there was no branch to go to at all.
Today, most of us operate our banking transactions sitting in a comfortable chair at home, in office, maybe while travelling but hardly want to go to a bank. Because we don't have to; net banking, mobile banking, ATM machines have made all this possible. So why do we need a branch anyways.
Well, First Direct a subsidiary of the Midland Bank operated a 24 hour telephonic banking system in 1989 for the first time in UK.
Virtual Banks/Direct Banks
Direct Banks or Virtual Banks saw a sharp increase in the 1990's where the idea was to open up a savings account online which didn't have any physical presence like any traditional banking do in order to save costs. This lead to a sharp increase in the cost cutting mechanism. This provides virtual banks a leverage to pay out a higher interest rate as compared to its competitors.
Virtual Banking is the mechanism of accessing the banking and related services online without actually going to the bank branch/office in person. Simply, availing the banking services through an extensive use of information technology without any requirement for the physical walk-in premises is called as virtual banking.
Virtual banking enables a customer to pay bills online, check account details, secure loans, withdraw and deposit money anytime as per the convenience.
Some common forms of virtual banking are, ATMs, use of magnetic ink character recognition code (MICR), Electronic clearing service scheme, electronic fund transfer scheme, RTGS, computerized settlement of clearing transactions, centralized fund management schemes, etc.
One of the advantages of virtual banking service is that the transactions can be checked in real time, i.e. as and when the transactions are made and the customer is not required to wait for the day or a month to end to check the transaction details. The cost incurred in handling the transactions is lower than the traditional form of banking, and, it charges low fee comparatively because of less overhead expenses.
Also, the response time has increased manifold with the invent of online banking. The customer can access his account any time round the clock and indulge in the banking activities as per his convenience.
Difference between Traditional Banks and Virtual Banks
| Basis | Traditional Banking | E- Banking Practices |
| --- | --- | --- |
| Global Coverage | Traditional Practice provides limited coverage. | E-Banking Practices involve global coverage while sitting at home/office. |
| Marketing Tool | Traditional Practice does not provide proper marketing tools. | E-Banking provides the facility of marketing of products./ schemes online easily. |
| Prompt Services | Traditional Practices involves process which requires more time. | E-Banking saves a lot of time as there is no need to stand in long queues. |
| Reduction of errors/ Frauds | Traditional banking practices do not provide a complete check on banking transactions. | With the system of reconciliation of inter-branch transactions, frauds and errors could be reduced. |
| Paperwork | Bank executives have to perform a lot of paperwork which increases both time and cost. | Cost and time could be reduced as everything is to be through some interval and no need for huge paperwork. |
| Risk of carrying cash | In the case of traditional business, a person has to carry cash at each point of time. | E-banking provides banking without carrying cash as plastic money (ATMs, Credit Cards, Debit Cards are available) |
How do Virtual Banks offer higher yields?
Banks are middlemen: They take deposits and make loans. The goal is to earn a healthy spread between what you pay for the deposits and how much you charge on a loan , which is known as the net interest income. That's one reason why you've seen interest on credit cards and mortgages rise much more quickly than on savings.
Traditional banks simply have a lot more middleman than their digital competitors. Online banks don't need to pay for bank branches, or the salaries of the people who work there, and can pass on much of those savings to you.
They also need to give you a reason to fight against the strongest force in personal finance: apathy. It takes a lot of effort to convince someone to open a new account at a different bank. Savers are creatures of habit.
Guidelines given by RBI
Some believe that the online world is not guided by any security or a higher authority. Well an easy and simple answer is, "That's not true" Every banking facility is to be guided by the central banking agency of that country. In India, RBI issues guidelines for all banking agencies operating in the country. Similarly, Federal Reserve is the central banking agency for USA and these guidelines are to be complied by the virtual banking systems as well along with some additional guidelines that the central banks might lay down.
Some of these guidelines issued by RBI include:
The bank should submit a security policy covering recommendations of RBI. This along with a certificate from an independent auditor that the minimum requirements prescribed have been met.
Banks will report to RBI every breach or failure of security systems and procedure.
The guidelines issued by RBI on Risks and Controls in Computers and Telecommunications should be adhered to.
Only institutions who are members of the cheque clearing system in the country were permitted to participate in Inter-bank payment gateways for Internet payment. Each gateway must nominate a bank as the clearing bank to settle all transactions. Payments affected using credit cards, payments arising out of cross border e-commerce transactions and all intra-bank payments (i.e., transactions involving only one bank) were excluded for settlement through an inter-bank payment gateway.
All settlement should be intra-day and as far as possible, in real time. However Inter-bank payment gateways must have capabilities for both net and gross settlement.
This is just few of the many highly specific issues. The purpose of these guidelines is to protect investor's wealth and provide them with a smooth and better banking experience.
Growth of Virtual Banking Markets
The Online Banking Market size is expected to reach $29,976 million in 2023 from $7,305 million in 2016, growing at a CAGR of 22.6% from 2017 to 2023. Digital banking includes all kinds of online/internet transactions done for various purposes. It is the incorporation of new technologies, to deliver enhanced customer services.
Customer convenience, higher interest rates, and technologically advanced interface majorly drive this market. High security risk of customer's data hinders the market growth. Growth in smartphone usage, increase in internet penetration among consumers, and increasing technology and growth of developing economies in Asia-Pacific region are some of the key factors, which are fueling the market growth.
Benefits of Direct/ Virtual Banks
Customer Convenience and Better Rates of Interest
Online banking includes banking and financial services, mobile phones, social media, and internet providers. Actual account balances and other information are available at the touch of a few buttons. This makes banking faster, easier, efficient, and more effective because consumers are able to stay up to date with their account balances. Less bank staff, no cost of significant infrastructure, and overhead costs allow online banking portals to pay higher interest rates on savings and charge lower mortgage and loan rates.
Greater Market Penetration with Increasing Consumer Base
 With growth in population rational brick and mortar banks would not be able to skillfully provide services to its ever increasing customers. The customer base of online banking is on the rise. This is due to the growth in internet penetration and mobile apps across the world.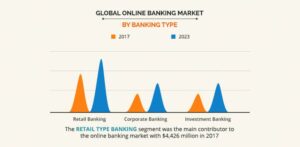 These online banks easily manage large customer databases with fewer space and employee requirement. Online banking saves much more time and energy compared with the traditional banks.
Drawbacks of Direct/ Virtual Banks
Websites can go down: Although rare, it's not unheard of for the websites of to go down. In 2008, HSBC Direct suffered a technical failure that rendered its website inaccessible for quite some time. Banking business was conducted as usual (deposits were registered, withdrawals were processed, etc.) but customers couldn't log into their accounts. Several years ago, Emigrant Direct upgraded their website, and the deluge of visitors checking out the new site made it inaccessible for a few hours. In the recent days , there have been reports of Chinese intrusions on the online banks.
You can't go to a branch: There is something comforting about being able to go somewhere and talk to someone face to face. With online banks, the relationship aspect of banking, which is most critical when dealing with loans, is gone. Some online banks offer loan services such as mortgages and car notes, but by and large, most people still trust brick and mortar banks for those types of services.
High ATM fees: While some online banks have extensive fee-free ATM networks, not all of them do. If you're not able to use one of your online bank's ATMs, you may have to use one owned by another bank. That can trigger a foreign ATM surcharge and your online bank may also charge you a fee for using a different bank's machine. That can make getting cash or checking your balance more expensive than it needs to be. If you do opt for an online bank for checking or savings, look for one that offers monthly reimbursements for foreign ATM fees.
Best Online Banks in the World for 2020
Ally Bank
Ally Bank stands out with a broad lineup of offerings, competitive rates, and high scores on banking surveys such as the J.D. Power 2019 Direct Banking Satisfaction Study.
If you want interest earnings, it's easy to open an interest checking account, high-yield savings account, a money market account, or CDs at Ally—and there's no minimum required. The rates might not be the highest online, but they're consistently competitive.
Ally Bank accounts charge no monthly fees, and transactions at all-point ATM's in the U.S. are also free. You can open online savings accounts, interest-bearing checking accounts, CDs, money market accounts, IRAs, or use any combination of those services for one-stop shopping.
Discover

 
Discover offers checking, savings, money market, CD accounts, and more, all with no monthly management fees.
For starters, Discover's Cashback Debit account provides rare cash back rewards in a checking account. You can earn 1% cash back on up to $3,000 of qualifying monthly debit card purchases.
Discover does have minimum balance requirements though, such as a $2,500 minimum to open a CD.
Charles Schwab Bank
Charles Schwab Bank earned high marks on the J.D. Power 2019 Direct Banking Satisfaction Study, and it may be especially appealing for global travelers. Schwab Bank's checking account is interest-bearing, offers unlimited ATM rebates within the U.S. and abroad, and has no foreign transaction fee when using other currencies.
Otherwise, Schwab Bank's online offerings are fairly standard. The checking account has no monthly fee and no minimum balance requirement. The same is true of the savings account, though the interest rate is unimpressive for an online bank. The main draw to Schwab Bank probably isn't the interest you earn, though—it's the advantages you get while traveling outside the U.S. with the Schwab debit card.
Alliant Credit Union
Alliant Credit Union has several accounts geared toward those under age 18, and adults can continue using Alliant's offerings later in life. For minors, a parent, grandparent, or guardian must be a joint owner on the account.
The Kids Savings Account pays an attractive rate on savings account balances. There's a $5 minimum deposit required to open, but Alliant will pay it for you. Plus, there are no monthly fees.
If you want to provide more autonomy, the Teen Checking Account is available to those between the ages of 13 and 17, with no monthly fees or minimum balance requirements.
First Foundation Bank
If you value high rates on savings accounts, First Foundation bank pays 1.20% APY in the Online Savings account. This is one of the highest rates currently available, and you can get that rate with a $1,000 initial deposit.8
To earn a rate this high, other banks require you to deposit substantially more or meet other cumbersome requirements. First Foundation even allows you to withdraw funds without losing access to the rate or facing monthly maintenance charges.
nbkc Bank
Online banks often pay high interest rates, and that applies to checking accounts as well as savings accounts. nbkc Bank pays 0.65% APY on your checking account with no monthly fees and a $5 minimum to open the account. This isn't a rewards checking account that requires you to use your debit card numerous times every month—you simply qualify for the rate regardless of your activity.
Capital One
An online bank's mobile app is especially important given that you often have to handle service requests and transactions yourself. Capital One received the highest score across all online-only banks in J.D. Power's 2019 U.S. Direct Banking Satisfaction Study, so picky customers may appreciate working with Capital One. With the app, you can handle essential tasks like mobile check deposit and payments. You can also lock your debit card temporarily, view free credit scores, and more.
A summarized below table shows which online banks are best for which category of investment/investor.
| Bank Name | Best in |
| --- | --- |
| Ally Bank | Best Overall |
| Discover Bank | Runner-Up |
| Charles Schwab | Best for Frequent Travelers |
| Alliant Credit Union | Best for Students |
| First Foundation Bank | Best for High Rate on Savings |
| nbkc Bank | Best for Interest Checking |
| Capital One | Best for Mobile App |
| Simple | Best for Managing a Budget |
Why people are choosing Online Banks?
As a small-business owner, you are likely to spend a good portion of your time in the bank doing bank-related activities to keep your business's finances in order. Banking can be time-consuming, but online banking makes it easier for entrepreneurs to handle most basic banking activities. This is possible with the help of a laptop or Internet-ready mobile device. Taking advantage of online banking will allow you to maximize your time. Along with that, the bank's online security measures protect sensitive information.
Access from anywhere . You can access your online bank account at anytime and from anywhere. No hidden charges incurred.
Tightly controlled by the RBI and its stringent regulations. This has added the necessary safety component to these banks.
Organized Downloadable Reports. You can access your financial statements for any period of time easily. These reports include your deposits, transfers, ATM withdrawals and any bills you have paid using your online banking account. Online banking can help you keep your business records organized or serve as documentation for your bookkeeper or accountant. Some accounts also feature spend analyzers, so you can graphically see where your business's money is going.
Online banking also offers the freedom to schedule payments ahead of time. Rent, salaries and other fixed payments, in any amount, can be set up through your online banking account. These payments are automatically deducted in the amount you decide on the date of your choice.
Online banks can be just as safe as traditional banks and credit unions. When an institution is federally insured, your money is protected against bank failures upto INR 500,000 per account, per institution. With banks, that coverage comes from the DICGC(Deposit Insurance and Credit Guarantee Corporation).