Imagine, you have a great idea to build a product or a service and you would like to start-up and reach the unicorn status as early as possible. You have a great team ready to put in all their blood and sweat to make the dream venture prosperous. But, wait.. Where are the funds?!! You need "MONEY", the big deal. By the way, you are well aware of the process to get it financed from either
An Angel Investor or
A Venture Capitalist or
A Loan from a Financial Institution
Here comes the main issue, none of them are ready to fund despite the extraordinary pitches and the viable product just because you are completely new and don't have credibility. You are shattered. But, wait again, What if I say that people are waiting to fund you? Yes, and that's through Crowdfunding!
What is CrowdFunding?
CrowdFunding is a process by which individuals, organizations and entrepreneurs raise money from the public to support a business,  project, or even a social cause. Literally, raising funds from the crowd is crowdfunding. It can be conducted offline as well as online mostly synonymous with online crowdfunding platforms in these tough times.
I hope it was a relief to you knowing there is an alternative. BUT, again we will have to scrutinize the types of crowdfunding models before we hop on to the online platforms.
Crowdfunding Models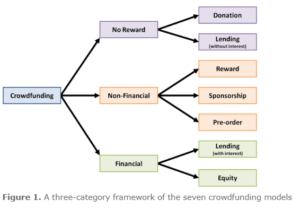 Don't freak out! The above image is a comprehensive one with minute variations between the models. Based on the reward model of the project, we may broadly classify them into 4 categories;
Donation-Based Crowdfunding
Reward-Based Crowdfunding
Equity-Based Crowdfunding
Debt-Based Crowdfunding
All these have numerous alternative names and serves the various purposes of the entrepreneurs and the projects are undertaken providing the investors or backers with the respective rewards.
Based on the payout models; it can be either
Fixed Model – All-or-nothing model wherein all the investors will be refunded if the goal is not reached within the stipulated time or
Flexible Model – Keep-it-all model will payout whatever the project has raised thus far irrespective of success or failure deducting a certain percentage of the amount.
A Quick Revisit into its History
Before we delve into its types, we will re-check its past to analyze its evolution into CrowdFunding.
Dating back to the 1700s in Ireland, the Irish Loan Fund was created to provide short-term loans to low-income families benefiting 20% of Irish Households. Fast Forward to 1976, Mr.Mohammad Yunus launched a Microfinance program in Bangladesh to give out loans to 42 women which then became the Grameen Bank in 1983. In 1997, fans of the British Rock Band Marillion donated $60k online to fund the band's reunion tour leading to the emergence of Artist Share as the first reward-based platform for the "fan funding". Michael Sullivan is credited for coining the term "Crowdfunding". From this, many ventures begun and the crowdfunding industry boomed with wide spread awareness and feasibility leading to the currently existing firms of KickStarter and Indiegogo amongst many others with new laws and legislations across the world for its regulation.
Donation-Based Crowdfunding
Let's get back to its types. The very first one and the oldest type is to collect donations from people for a particular project or a social cause. In this type, backers fund in the form of donation in return for the a satisfaction of contributing to a good cause and nothing else. Initiatives might range from fundraising for disaster relief, charities, non-profits, and medical bills to even political parties. Donation-based crowdfunding platforms include GoFundMe, YouCaring.com, GiveForward, and FirstGiving charging a 5%–10% fee for its services.
Reward-Based Crowdfunding
There is a slight variation from donation-based as under this type of funding, you might get a non-monetary reward in terms of either a copy of the product or merchandise associated with the project that you are contributing or even a perk that you can leverage in future to buy the product or service offered depending on the quantum of contribution. For instance, Reward-based crowdfunding can be utilized to fund a film and in return, backers' names can be mentioned as a due acknowledgment in the film.
KickStarter and Indiegogo are successful reward-based crowdfunding platforms offering various services to its customers to run online campaigns.
Debt-Based Crowdfunding
This one has evolved SO much changing the scope of FinTech Industry. P2P Lending or Crowdlending or Marketplace Lending, all referring to the same model where the investors lend in return for repayment along with the interest. Many businesses have been built around Peer to Peer (P2P) lending like Faircent in India to connect borrowers and lenders without the need for intermediary charging a commission from both the parties for its services. Peer 2 Business (P2B) Lending is also a type of Crowdfunding. This method works very well for SMEs or firms seeking expansion to fund an acquirement of a new equipment, launch a new product, or even publishing a book etc.
Recent developments include Real estate Lending, Blockchain Lending and injecting Smart Contracts into P2P lending. Debt-based crowdfunding models account for the following share of the overall funds raised with crowdfunding in the respective regions according to reports produced by the Cambridge Centre for Alternative Finance (CCAF). LendingClub, Prosper, Funding Circle are few debt-based funding platforms.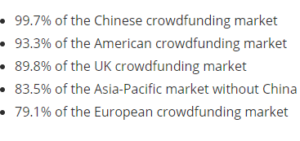 Equity-Based Crowdfunding
Equity-based is very similar to secondary markets or over the counter (OTC) markets where we buy/sell shares under the purview of Stock Exchange Regulators. Under this, the investor will receive shares of the business for every penny invested. Crowdinvesting or Investment Crowdfunding or Crowdequity is profitable for both the borrower as it gives less control than if given to VC/PE firms as well as to investors in terms of minimized risk. In the U.S., the Securities Exchange Commission (SEC) regulates equity-based crowdfunding allowing the non-accredited individuals also to invest in such SMEs while SEBI allows only accredited investors and QIBs to invest in India. In the UK, the Financial Conduct Authority (FCA) regulates both equity-based and P2P lending.
Process of Crowdfunding
Now, that you know the types, I am certain that you would choose the right platform according to your need to get funded. But, once again, how would you go about it? Let's decode the process!!
There are broadly 4 parties involved in a typical crowdfunding transaction.
Fundraiser – The one who needs money may be an individual, organization or SMEs
Backer – The one who is interested in the project and is ready to invest.
Fundraising platform – The online website run organization where one can list their fund raising campaign.
Online Money Processor – The payment processing company that transfers money to and from the Fundraiser, Backer and the platform.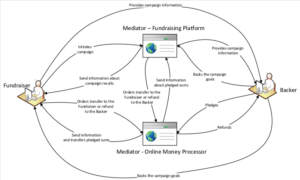 The first step would be to choose the right platform. Once you've done the analysis of the pros and cons of the platform that you choose, read and re-read the terms of the platform and look for the tools and services they provide. Know what model it follows – whether fixed or flexible.
Prepare an incredible pitch either in the form of a presentation or a video explaining the need for the fund and how would it be utilized. Provide all relevant information and links on the website.
Pledge a certain amount and the time frame to proceed with the process. Now, the campaign is online and you will have to start marketing the campaign through word of mouth to friends, relatives and social media.
Once, the target is reached, wait for the time to end as there is a ray of hope to get it over-funded like the successful campaigns in the past of Pebble Time and Oculus VR.
Apparently, you will get the sum in your bank account after the deduction of the service charge by the hosting platform.
This is just the beginning as now you will have a truckload of responsibility to carry out the project successfully, deliver the rewards timely in case of reward-based, give out the acknowledgment to donation-based and the regular update to the debt and equity-based backers.
International Players
Well, You must be ace the ins and outs of the process to run a marvelous campaign, why not go international to raise money? Here are the Top 5 international Players in the industry to help.
KickStarter
KickStarter is an American Public-Benefit Corporation with its mission to help bring creative projects to life. Since April 28, 2009, 18 million people have backed a project, $5.2 billion has been pledged, and 185,855 projects have been successfully funded.
It works on Fixed or All-or-Nothing Model of payout.
Indiegogo
Indiegogo is one of the major rivals for KickStarter and one of the first crowdfunding platforms started in America in 2008 hosting 800,000 innovative ideas to life with 9 million+ backers, representing 235 countries and territories. It works on both Fixed and Flexible models.
GoFundMe
GoFundMe is the world's largest social fundraising platform launched in 2010. With over $9 billion raised from more than 120 million donations, with a mission to help people fundraise for personal, business, and charitable causes focused on donation-based.
Patreon
Patreon runs for the crowdfunding of mainly YouTube creators, podcasters, musicians and artists working on a subscriber model. Each Patron gets specific perks and access to special content in return for their contribution. Since 2013, with 5 million monthly active users and 1 billion payout to creators.
LendingClub
Founded in 2006, Lending Club is a peer to peer lending (P2P) company listed in NYSE offering loans in secondary market to SMEs for short terms and personal loans. Charges borrowers an origination fee of 1%-5% (depending on credit risk) and creditors a service fee equal to 1% of the loan amount.
Finally, we've come to the end of this long piece of engaging article and I hope to have instigated entrepreneurial spirits in you and the ways you can make it happen through crowdfunding to create a dent in the future generations.