Desperate times call for desperate measures. In times like these when the coronavirus has hit the world and brought imbalance to all our lives, people around the world are trying to make ends meet. Countries have gone into complete lockdown. Although many feel that this has created an opportunity in the financial sector as markets are witnessing it's one of the worst times ever.
Warren Buffett once said; "Be fearful when others are greedy and greedy when others are fearful".
Stocks are witnessing an all-time low and this gives investors two different minds:
For someone who has invested a large chunk in stocks, mutual funds, and ETF's are wondering what to do as portfolios' are witnessing an all-time low for most of us. Some people have already started cashing out their investments and taking out as much money as possible out of the market while the others hope for a pullback as soon as possible.
On the other hand there are some people who believe that this could be a golden opportunity for them as when all this is over, a good investment plan can render Capital Gains like never before.
Investment Experts do not have a consensus on what should be a good strategy in such kind of a situation but there is one thing that every professional wants people to avoid; BEWARE OF BOTTOM FISHING.
Bottom Fishing– Bottom fishing refers to investing in assets that have experienced a decline due to intrinsic or extrinsic factors, and are considered undervalued.
It is clear that bottom fishing is an attractive short-term strategy for boosting portfolio value or for making a quick profit during periods of volatility in the market.
However, bottom fishing can be risky since even the most experienced investors find it impossible to account for all factors that affect market prices.
Overview of a fall in Mutual Fund Schemes
Bloodbath: Schemes that lost heavily last month
| | |
| --- | --- |
| Category | One-month return (%) |
| Energy Funds | -20.08 |
| International Funds | -20.07 |
| Banking Funds | -19.54 |
| Infrastructure Funds | -19.07 |
| PSU Funds | -18.26 |
| Technology Funds | -18.01 |
| Value Oriented Funds | -17.99 |
| Dividend Yield Funds | -17.80 |
| Large Cap Funds | -17.54 |
| Small Cap Funds | -17.04 |
| ELSS Funds | -16.50 |
| Multi cap Funds | -16.40 |
| Large & Mid Cap Funds | -16.32 |
| Mid Cap Funds | -15.47 |
| Consumption Funds | -15.12 |
| MNC Funds | -13.78 |
| Aggressive Hybrid Funds | -13.22 |
| Balanced Hybrid Funds | -11.12 |
| Multi Asset Allocation Funds | -10.30 |
Source: Value Research
International Diversification and US Stock Holders
Investors have always tried to maintain a balanced Portfolio to an extent that is possible to reduce risk and the best way to diversify was believed not only to invest in different stocks and industry sectors but to also look at international markets. However, this has given a major blow to the US Investors as the U.S. stock market has lost 22.1% since the beginning of the year; international stocks are down 25.4%. Emerging market stocks, which many analysts earlier this year were arguing were the most undervalued of any in the world and thus the most compelling, are off 25.9%.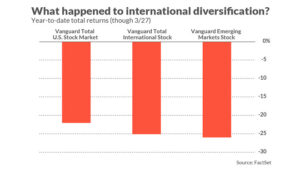 We hope that all this will be over soon and we can get back to our normal lives and the balance will be restored back to the world economy as countries around the world are sparing no expense in tackling the situation like the Fundamental Principle of War Finance;

that nothing should be decided on the principle of finance.